The Alcona Historical Society's museums at Sturgeon Point Lighthouse State Park are closed for the winter. We will be opening again on Memorial Day weekend in 2023. The park is open to the public year around. See you in the Spring!
About the Alcona Historical Society
The Alcona Historical Society was formed to preserve the rich history of the Alcona County area. The society realizes the value of the past and its importance to future generations.
Members of the historical society provide educational tours and programs, including exciting opportunities for residents and visitors to explore and enjoy our three museums: Sturgeon Point Lighthouse, Bailey School and the Lincoln Depot.
Group tours of each facility can be scheduled through the venue contact person and family picnics, reunions, outdoor parties and weddings may also be booked. Tents, chairs, electricity and parking arrangements are available for a minimum fee.
The organization relies on its members to fulfill the mission on which it was founded; to locate, preserve, protect, restore and record the historical records, objects, sites, and lands of Alcona County.
Members of the Society take pride in their stewardship of the 3 museums and donate hundreds of hours each year to greet visitors and explain the history of the lighthouse, museum and Great Lakes shipping, one room schoolhouse and depot with its caboose and switch engine.
Calendar of Events:
Tuesday, February 28, 2023, 1 p.m. - Underwater Discoveries, presented by Cassandra Sadler
Thursday, March 16, 2023, 6 p.m. - Women of the Watch: Keepers of the Light, presented by Anna Marck
Tuesday, April 11, 6 p.m. - Michigan's Lumbering Days and Camp Life, presented by Al and Dave Eicher
Thursday, May 18, 2023, 6 p.m. - Ric Mixter, Shipwreck Expert
Saturday, May 28th - Sturgeon Point State Park museums and gift shop open
Open Friday, Saturday and Sundays 11-4 throughout the summer
Saturday, August 5th - Family Fun Day - 11-4
Saturday, August 19th - Bay to Beacon Half Marathon (see website for details)
Newspaper archives at the Library:
Alcona County newspaper back issues can be viewed on microfilm at the Alcona County Library.
Alcona County Review: April 27, 1877, through the end of the most recent full year.
Lincoln Herald: January 9, 1908 through March 3, 1910, when it became the Alcona County Herald: March 10, 1910 through January 27, 1993 (several missing, however).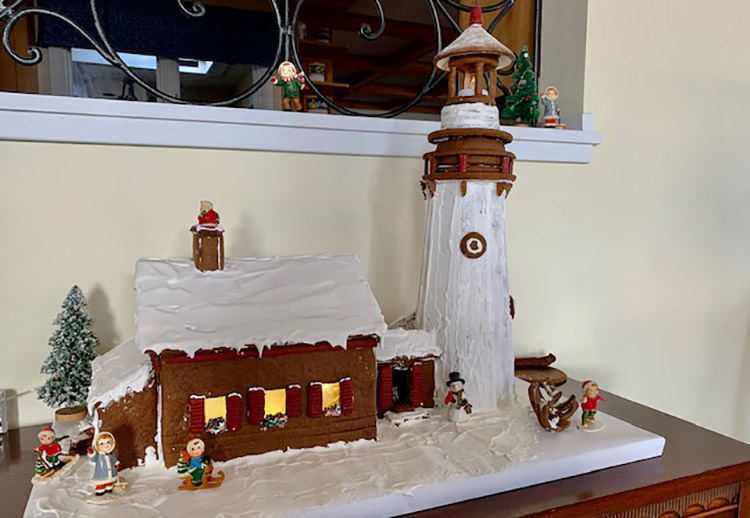 Sturgeon Point Lighthouse in Gingerbread:
Jean Olney and her son, decided to create the Sturgeon Point Lighthouse in gingerbread as a Christmas project this year. Their family has been visiting it every summer for many years, and Jean's grandchildren look forward to visiting it for many years in the future.