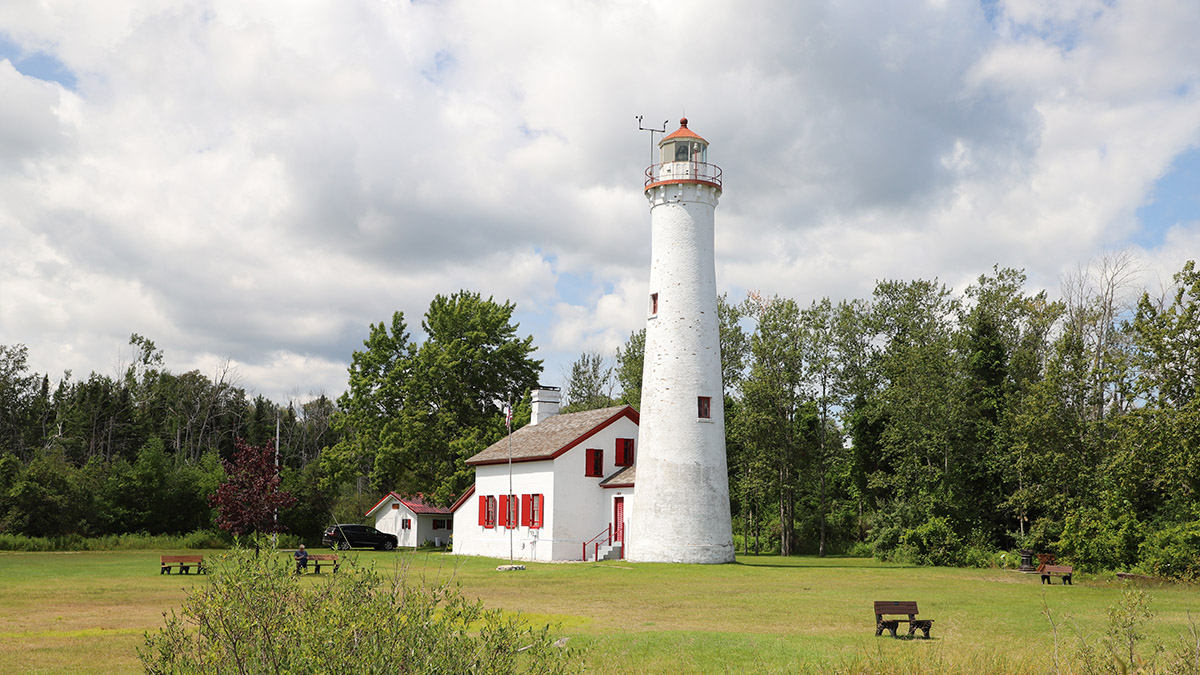 Until the early 20th Century, northern Michigan was almost completely dependent on waterborne commerce for all of its needs. Thousands of sailing vessels and early steamers plied the Great Lakes at a time when there were almost no aids to navigation to guide them along the dangerous coastline with its treacherous rocks, shoals and reefs. One such reef extends 1-1/2 miles out into Lake Huron at Sturgeon Point, just north of Harrisville, Michigan. In 1869, the Lighthouse Service began construction of the lighthouse at Sturgeon Point to mark this hazard. Sturgeon Point Lighthouse became operational in the spring of 1870 and has been in continuous service since 1869. The lighthouse is still operational.
In 1876 the U. S. Life Saving Service established a Life Saving Station at the Sturgeon Point Lighthouse. This station provided around-the-clock rescue capability for vessels in distress. With the formation of the U. S. Coast Guard in 1915, Sturgeon Point became a Coast Guard station. The lighthouse was electrified and automated in 1939 and the last personnel left in 1941. The Coast Guard buildings were subsequently destroyed, however, the lighthouse itself survived but was severely vandalized.
In 1982 the Alcona Historical Society leased the lighthouse and began a three - year restoration project. The interior of the keeper's house was completely restored, and the buildings were painted. Almost all of the work was done by volunteers, directed by Floyd Benghauser. The lighthouse is of masonry construction on a limestone block foundation. The tower is 70 feet, 9 inches tall and is 16 feet in diameter at its base. The light is a 3.5 order Fresnel lens made in Paris, France. The Fresnel lens is still in the tower but is no longer in operation The Coast Guard does monitor a LED light to assist recreational watercraft. The keeper's house is now a maritime museum which is open to the public on weekends from Memorial Day to Labor Day Weekend. The lighthouse tower is open to climb periodically throughout the summer season. Call us for details. The grounds are open all year.
Hours of Operation:
The lighthouse and museum will be closed for the summer of 2020. The grounds are open however, and self-guided tour brochures are available at the gate.
Lighthouse Contact Information:
Mary Hamather
Phone: 989-724-6153
Directions to the Sturgeon Point Lighthouse and Bailey School:
Northbound on US-23: Watch for sign approximately 1 ½ miles North of Harrisville and turn right on Lake Shore Drive. Turn right (east) on Point Road and the entrance to the Lighthouse and Bailey School will be on the left.
Southbound on US-23: Watch for sign on the right after going through the Black River Hills. You'll be on a hill and need to be in the center lane. Turn left onto Lake Shore Drive and then right on Point Road. The entrance will be on your left.