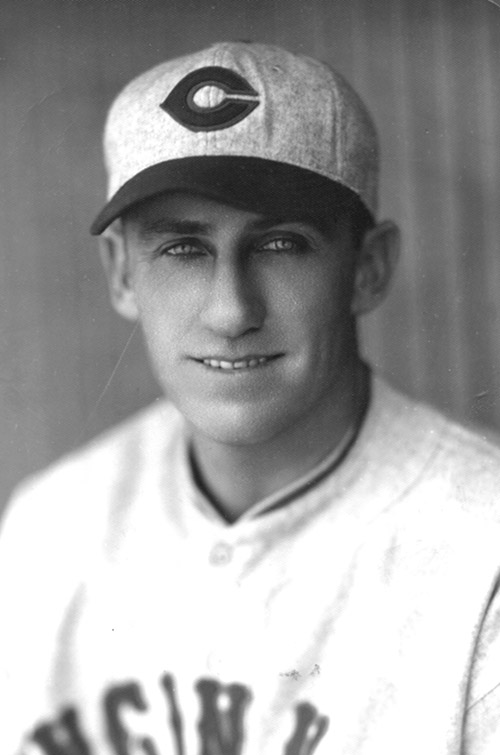 Hazen Shirley Cuyler was born on August 30, 1898 to George and Anna (Shirley) Cuyler of Sturgeon Point where his father was a member of the U.S. Life Saving Crew. Hazen moved with his family to Harrisville in 1907.
Hazen attended Harrisville School and graduated valedictorian of the five-person class on May 30, 1917.
According to the February 16, 1950 issue of the Alcona County Review, "Hazen's love for baseball grew from childhood when he played with neighbor children on the sandlot diamond at Sturgeon Point. His high school days found him an important figure on the home baseball and basketball teams. The guidance of his father, who was a sports enthusiast, during his early years helped greatly in his later achievements." He played in county league teams and with Alpena teams during his early years.
Following graduation, he attended West Point Academy during the Great War (World War I). When he returned home, Hazen married his high school sweetheart, Bertha Kelly, the daughter of Arthur and Clennie Kelly of Harrisville, on January 18, 1918. They moved to Flint, Mich. for some time where Hazen worked for Buick. While in Flint, after World War I, Hazen started playing semi-pro baseball and starred while playing for the Buick Big Red Basketball team.
On June 20, 1920 he signed with the Bay City Club of the Michigan-Ontario
Baseball League. A scout from the Pittsburgh Pirates spotted him at a game in Saginaw, Mich. in August 1921 and paid $3,000 for his release to the Pirates. This was his entry into big league baseball. During his four seasons in the minors, the right-handed batter and thrower had three short trials with the Pirates in 1921, '22 and '23. He finished the 1924 season with one of the finest rookie years in baseball. He finished fourth in batting with a .354 average and 32 stolen bases. In 1925 Hazen's hitting and running skills helped the Pirates win the pennant and the 1925 World Series after defeating the Washington Senators in seven games. He led the National League in 1925 with 26 triples.
The season of 1926 was a tough one for Hazen. He and Donnie Bush, manager of the Pirates, began to have problems and Bush benched Hazen during the 1927 World Series against the New York Yankees (led by Babe Ruth, Lou Gehrig and Tony Lazzerie). Less than two months later he joined the Chicago Cubs. (The Pirates did not see a World Series for the next 33 years.) Hazen's batting average, which had dipped below 300 for two years, improved in 1929 to .360. That fall he finally played in a World Series against the Philadelphia Athletics. The Cubs lost to the Athletics in five games.
Hazen was called "Cuy" by his school teammates. It was while winning the MVP title of the Southern Association with Nashville in 1923 that he acquired the euphonious "Kiki" nickname. Fans heard the players shout for him to take the ball when he rushed in on a short fly. The shortstop would yell, "Cuy," and the second baseman would echo the call. In the press box the writers turned this into "Kiki." Older fans wince to hear him called "Keekee."
Hazen, who had curly hair and hazel eyes, is described as a hard-swinging batter who ran bases with abandon. He was a tough competitor but was a gentleman who did not drink or smoke.
In 1929 Hazen and his wife, Bertha, purchased a home in Harrisville (which is still in the family). Over the years they had two children, Harold "Butch" and Kelly June.
His daughter, Kelly Kruttlin, remembers her father as being very ambitious and family oriented. "He liked to fix things and work about the house," Kelly said. "He looked after his parents and my mother's parents. He was the same all the time-very outgoing and had a nice personality. He believed in work. He liked everybody."
Hazen was very active in the community. He was a founding member of
the Harrisville Goodfellows-a group that started out as the "Buck Club" in the 1930s. Hazen and other members would, according to E. W. "Bub" Chapelle, collect dollars from people on Main Street to use to give children a better Christmas.
He was a founding member of the Harrisville Lions Club, where "No job was ever assigned to him by the club president that he didn't give forth with his best," Chapelle wrote after his death. "He was the backbone of the Lions Club Minstrel Show which has been successfully put on for the last eight years."